Where to buy cameras?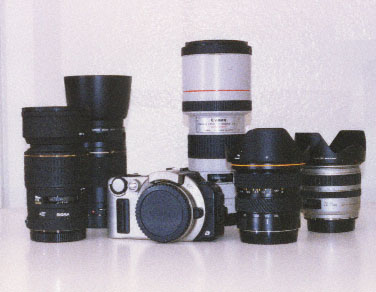 And finally, I have an issue of POPULAR PHOTOGRAPHY which has tons of mail order houses to order from and I have also seen some of these on the web. Is this a safe way to go? I've heard the stories of American versus an International warranty and the possibility of product misrepresentation. Has anyone dealt with ordering a camera through this method? I can't see paying local camera store prices, that would be a crime.
---
B&H
To me the only reliable mail order place is B&H. Their price are reasonablly low, generally lower than other honest merchants.
When I first started, I ordered my equipment from the lowest merchant in Popular Photography. I ended up paying more than the local store. Now, that's a crime.
Now I order exclusively with B&H, or a local store where I can get the merchandise immediately. B&H's shipping is quite fast (2-3 days).
Amazon
I have ordered two Polaroid i-Zone Digital and Instant Combo Cameras from Amazon. (See my "Fun Photographic Gift for Children" article.) Both cameras arrived within a few days. Amazon's on-line ordering process is extremely simple. Plus, there are, at the bottom of every product page, reviews of the product by other consumers. Recently, Amazon has expanded its photographic equipment section. Now it has semi-pro and pro equipment also. I expect them to increase their offering to include more products in the future.
Here are some special offers from Amazon that may save you some money:

Free shipping on $99+ Orders for Kitchen Store Expires: Unknown
Free shipping on Console Video games and Accessories Expires: Unknown
$50 off $100 in Wireless Code: AMZN-CELLULAR, AMZ-CELLULAR2, or AMZN-ELEC-CALL Expires: Feb 15
$10 off $25 in Lawn & Patio/Hardware, Code: AMZN-DEAL-CRD2 Expires: Feb 28
KEH
I have ordered many used lenses from KEH. Many times at very good deals. All the lenses I have received from them come to me in what I feel is brand new condition. Of course, I only order used products with EX or LN designation. But you have to be careful about their prices. Sometimes their used equipment is almost or even more expensive then the same brand new equipment at B&H. If you are careful, there are good deals to be found.
---
Author: Nelson Livingston <woodwork@artistryinwood.com>
Date: 2000/07/31
Source: E-mail
In response to your query about mail order reliability etc. I have purchased several things from different mail order houses. And I can tell you from my recent experience of 4 days ago. Canon honored my EOS 5 (non A2E) purchased through mail order. No hassles. Canon says "No problem." also they do not make the international versions any different not cheaper not in korea or what ever some of these places may tell you. Now I can not speak for the other Manufactuers and their practices. But this speaks highly of Canon.
I wish there was a hack to turn off the mercury switch for the eye control focus. With my head sidways to the camera mine works most of the time.
Nelson Livingston
Copyright © 1999, 2000 by Chieh Cheng. All Rights Reserved.