Some thoughts on the Sigma 105mm f/2.8 EX macro lens

>> Recently I have aquired the Sigma 105mm f/2.8 EX
>> macro lens (Canon EOS model). It is extremely well
>> built. I enjoy using it very much.  

>I would be much grateful if you could send more
>information, such as: Do you feel that the auto-focus
>motor is fast? What about the handling, focusing ring,
>sharpness, etc. 

The auto-focus speed is extremely slow, compared to Canon's USM. However, speed is decent if you set the focus limiter to either normal or macro range. I am also using it with a Rebel G, which probably have the slowest AF capability.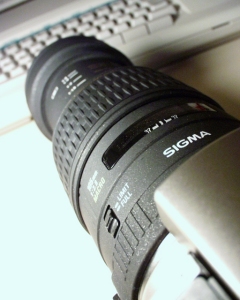 Generally I only use this lens for macro, and I find AF to be somewhat useless. AF is especially useless on semi-transparent objects. Since DOF is short, the lens can either focus on the internal organs, or transparent exterior of the object. The lens can't decide in this situation, and I'm generally unsatisified with its choice.
In fact, a lot of the time in macro work, you set the ratio and focus the subject by moving the lens back and forth.
The lens is very solid and sturdy, yet not very heavy. Focus ring has full throw, rather than the very short throws on zoom lens, which may be why AF is slow. Manual focus is smooth with no play. Resistance is just right for my taste. A clutch disengages the focus ring, so that you may hold the very large and comfortable ring while auto-focus.
Personally, I feel the lens is very sharp, as indicated on Photodo. I tested the lens out on some portraits shots and found the resulting photos to be way too sharp for portrait work. Which is unfortunate, since I was hoping on using this lens for both macro and portrait. Perhaps a UV filter or diffuser would help. This is a great 105mm lens if you need extreme shareness.
This is an extremely sharp macro lens that is capable of 1:1 ratio. I use it to get close-up of flowers, insects, and other tiny objects. Some of the lens pictures that I took myself on this web-site are also taken with this lens, because other lens can not focus close enough. (See photo section below.)
Distance scale is provided. Macro ratio scale is also provided on the lens barrel. The 2.8 f-stop is also very nice for speed and background blur. Filter thread is 58mm. Lens hood is metal, included, and screw-on type, non-flower shape. The lens has a non-rotating front. The lens include a semi-soft padded carrying case that can be strapped onto your belt.
This lens costed me about $360 from B&H. But I feel that it is money worth spent.
Problem with Lens Hood
The metal lens hood that comes with the Sigma 105mm lens is extremely well constructed. It is a screw-on type that allow you to use rotatable filters with the hood. However, once the hood is screwed on, the cap can not be place on the lens to protect it without unscrewing the hood. The process became tedious.
I measured the front of the lens hood and found it to be 75mm, so a 77mm lens cap will not fit. Plus, there is no filter thread in front of the lens hood.
I e-mailed Sigma this problem and after a few e-mail exchanges, the helpful person mentioned that there is a replacement lens hood that has a 77mm filter thread in front of it. And, in fact, it comes with a 77mm lens cap. I was delighted to hear that and made the purchase through Sigma's FAX number.
The new lens hood has the same part number stamped on it as the old. I suspect that the problem has been addressed by Sigma and that they may be shipping the new lens hood with the lens. The new hood is also deeper than the old, which I think will be better at eliminating flare and increasing contrast. I can even screw on 77mm filters without removing the lens hood.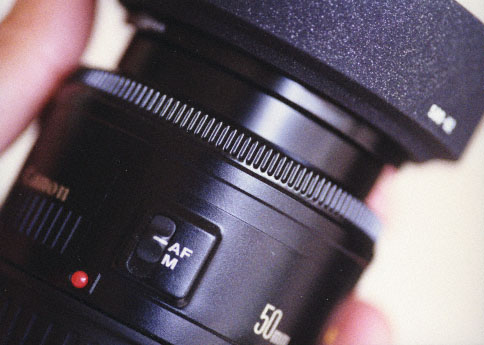 Now I mount the old lens hood on my Canon 50mm f/1.8 lens, which I don't have a hood for. How did I mount the 58mm hood on the 52mm filter mount of the 50mm lens? With a step-up ring, of course!
Some photos made with this 105mm macro lens
Canon 24-85mm f/3.5-4.5 lens with EW-73II hood
- Canon Rebel G, Sigma 105mm f/2.8 EX macro.
Canon 50mm f/1.8 II lens with Sigma hood
- Canon Rebel G, Sigma 105mm f/2.8 EX macro.
Canon 300mm f/4 L lens mounted on a tripod with a camera
- Canon IX, Sigma 105mm f/2.8 EX macro.
flowers
- Canon Rebel G, Sigma 105mm f/2.8 EX macro, Kodak Gold 100.
core
- Canon Rebel G, Sigma 105mm f/2.8 EX macro, Kodak Gold 100.
surface
- Canon Rebel G, Sigma 105mm f/2.8 EX macro, Kodak Gold 100.
weed flower
- Canon Rebel G, Sigma 105mm f/2.8 EX macro, Kodak Gold 100.
Related Books
Other people's comments and reviews of this camera
Copyright © 1999, 2000 by Chieh Cheng. All Rights Reserved.