Some thoughts on the Tokina 20-35mm f/3.5-4.5 II lens
This wide angle zoom lens is a good lens. It is made out of metal and very rugid. But I don't like to carry it around because it is heavy. I much prefer the weight of plastic lens and cameras than metal ones.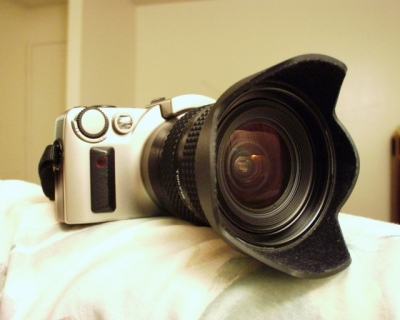 Auto-focus is a bit tedius on my Canon Rebel G. It doesn't always lock to the right place. Most likely due to the distortion of the wide-angle lens. If you keep the camera and lens in the same position, autofocus at different times may cause focus lock on different distances. This is most likely due to the large depth of field of wide angle lens. The auto-focus is very loud and noisy. It sound like it is under a lot of stress. It is relative fast. I prefer Canon and Sigma's AF switches to Tokina's AF switch. And it is backward on my Tokina lens. I am very tempted to unscrew the switch and turn it over.
This lens has a 77mm filter thread and non-rotating front.
I got the matching flower-shaped hood from B&H for $40. The model number is BH771. It is really expensive compared to Canon's hood. The quality of the lens hood is excellent. It is even felt-lined on the inside to absorb light. Dust do stick to the felt though.
Some photos made with this lens
Exit
- Canon Rebel G, Tokina 20-35mm f/3.5-4.5 II, Ilford HP5 Plus.
| | |
| --- | --- |
| Reviews of this lens by others | Related Books |
Copyright © 1999, 2000 by Chieh Cheng. All Rights Reserved.