Nisis Pocket DV 2
"Sir, take a flyer for our digital video camera . . ." said a representative, in a sophisticated gray suit, while handing me a 8.5x11" sales brochure.
I waved it away quickly and said, "No, thank you." Picking up a sales flyer, while dodging the horde of people at the 2002 COMDEX in Las Vegas, was the last thing I wanted to do at that moment. My primary purpose at COMDEX was to meet a vendor. Other than satisfying this primary purpose, I had no real desire to see all the latest gadgets at COMDEX.
After taking two more steps, I looked up, saw a sign, turned around, and said to the representative, "may I have a copy of your brochure?"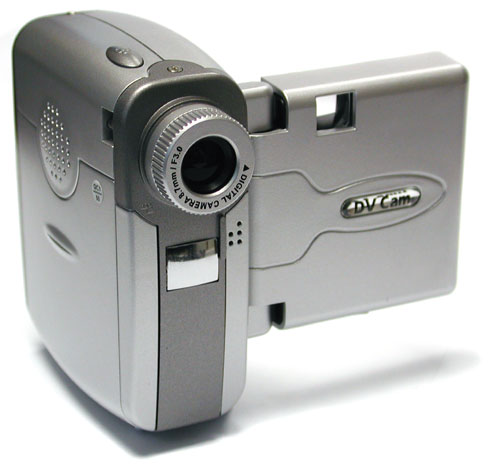 What caught my eyes was a very simple sign that said, "Digital Video Camera for $129." I am sure that same sign caught quite a few pairs of eyes, since there was a very large crowd in front of the NSU Lexington LLc (a distibutor for this product) booth.
The technology is quite impressive; basically its an inexpensive palm-sized digital video camera. The Pocket DV 2, by NISIS, has the capability of storing 31 minutes of video and audio in its internal 128 megabits SDRAM. The memory is expandable with its CompactFlash card slot. With the DV 2 in my hand, I made some close inspection of the device that you can not get from its technical specifications.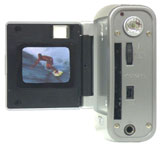 It has a 8.7mm lens. Its 35mm equivalency is unknown.
Lens aperture is F/3.0.
CompactFlash slot is a CF-1 slot and not a CF-2 slot; my CF-2 MicroDrive will not work with it.
It has a mini USB port.
The LCD screen flips out, but does not swival. It is two positional: opened and closed.
Its viewfinder is a rangefinder design and not a single-lens-reflex design. The LCD may (probably) show the actual captured data.
Operations are menu based. This design is quite nifty since it greatly reduces the number of buttons needed.
No zoom.
The front lens rotates. The rotational range is indicated by a mountain at one extreme and a flower at the other extreme. I suspect this is the manual focus ring.
This technology seems to be based on the web cam. In fact, it is marketed as "The all-in-one digital video camera, Web Cam, PC Still camera with voice recorder & self portrait functions."
Digital video camera technology seems to have came a long way. I look forward to seeing one with zoom and auto-focus features for under $100 bucks. In the mean time, I hope Nisis or NSU Lexington will send me a Pocket DV 2 for a hands-on review.
Technical Specifications
Sensor Type ~ 1280 x 1024 CMOS Sensor
Interface Type ~ USB Port
Capture Mode ~ Still image (JPEG format), AVI Movie with audio (Motion JPEG)
AVI Image ~ 320 x 240 pixels with audio recording
Image Control ~ Auto Exposure, Auto White-Balance
Memory ~ 128 Mbit SDRAM
External Memory ~ Compact Flash (C.F. card option)
PC-Cam Memory ~ 30fps for QVGA, 10fps for VGA
LCD ~ 1.4", 4,096 colour STN LCD display for preview and playback
Self Timer ~ 10-second self-timer with beep
Battery ~ AAx2
TV-out ~ NTSC/PAL
Hot-Key ~ one for video / audio recording
Software Support ~ Microsoft Windows 98SE, 2000, ME and XP
Related Links
Add Comment
Discussion
Latest Discussion
Home